Installing any NotePlan plugin is a simple process.
REQUIREMENTS
np.Templating requires NotePlan v3.5 or greater. To get the latest version of NotePlan, visit NotePlan Website or Setapp Website
💰 Earn a free month from Setapp!
If you are new to Setapp, feel free to use my referral link to earn a free month!
Step 1: Open NotePlan Preferences (NotePlan -> Preferences) and click the Plugins tab
Step 2: Find np.Templating in the NotePlan Plugin list
Step 3: Click the checkbox to install plugin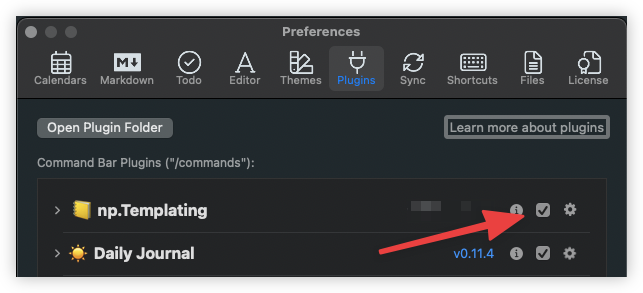 LEGACY TEMPLATING DISABLED AUTOMATICALLY
If you had the previous Templates plugin installed, it will be disabled as to not conflict with np.Templating.
For more information, see Legacy Template Migration